Quick Tip - How To Wash And Clean Your Shower Curtain | Bonus Cleaning

The sight of a dirty shower curtain can be quite disconcerting. We will present a few useful tips on how to properly clean your shower curtain.



Entering your bathroom and seeing your shower curtain dirty and mould infested can be an unpleasant experience. This experience can send shivers down your spine. An unkempt shower curtain can ruin the appearance of an otherwise clean bathroom. However, not paying attention to cleaning your shower curtain is understandable, life is busy and stressful as is and we often ignore such little cleaning details. Finding yourself in such a predicament is normal.
It is important to regularly

deep clean

your bathroom. All the tiles, floors, sink, shower head and yes the curtain as well should be properly cleaned. The tricky part with keeping your shower curtain clean is that it protects your floors and the area around your bathroom from being constantly wet. The more often you use your shower the dirtier your shower curtain will be.

Suggested: 10 Tips For a Stylish and Functional Bathroom.
How to clean your shower curtain.



Before considering throwing your shower curtain away and purchasing a new one keep in mind that it is not particularly difficult for you to clean as long as you know the proper cleaning solution. Cleaning your shower curtain does not take that much effort, you can use the washing machine, and the result will be as if you have purchased a new one.
Simply put your shower curtain in the washing machine. If you are a fan of all-natural and eco-friendly cleaning solutions you can use baking soda and vinegar in the cleaning process. Place your shower curtain in the washing machine along with a few dirty kitchen towels, they will create the needed turbulence necessary for removing mould and mildew from your shower curtain. After turning the washing machine on instead of adding detergent add half a cup of baking soda. When the washing machine reaches its rinsing cycle add half a cup of vinegar. If any mould or mildew has not been removed by the baking soda alone the vinegar will surely remove it. If your shower curtain is particularly dirty and requires more attention you can up the quantity of baking soda and vinegar to a full cup and repeat the cleaning process.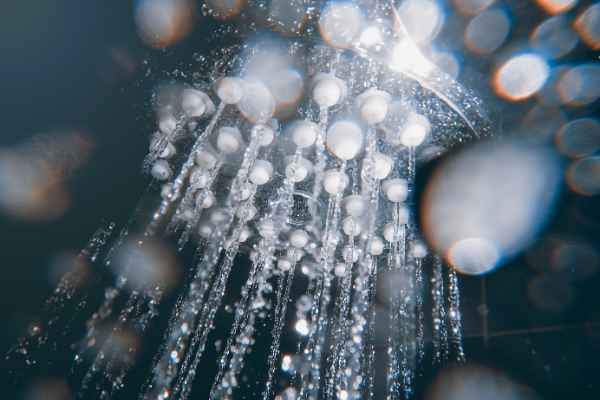 In the end, before your washing machine reaches its spin cycle you can take out the shower curtain and check its condition. If you are not satisfied with how well the stains have been removed you can repeat the process, however, your shower curtain should be looking as close to new as possible. If so you can just hang it back in your bathroom and leave it to dry. If you are not particularly fond of the smell of vinegar you can always replace it with lemon juice or different citrus fruit.

Suggested: How to clean blinds. Vertical, horizontal or external, clean blinds to perfection with these easy to follow steps.
What if your shower curtain is white or transparent?



If your shower screen is white or transparent any stains, mildew and mould will be visible. In such instances, you will have to turn to bleach.
Place the shower screen in the washing machine along with a few dirty kitchen towels, you need to use white towels in this case as any colour can transfer onto the shower screen. Turn the washing machine on, as soon as the drum starts filling with water pour half a cup of bleach and a quarter cup of laundry detergent. You can also prepare a homemade laundry detergent and use it in this instance (we will delve deeper into that subject soon). Your work is now done, it is all up to your washing machine now. Before the spin cycle starts turn the washing machine off, take out the shower curtain and check how well it has been cleaned. If you are not satisfied with the result you can repeat the cleaning process. If at the end of the cleaning the screen is still dirty you can finish the cleaning process by hand using soap and a sponge or microfiber cloth.
It is very important to remember never to put the screen in the washing machine because its fabric contains plastic which can collect in places and crinkle. You will in effect ruin your shower screen and it will need to be replaced.

Suggested: Your dishwasher-do you need to clean it? The answer is yes.

Following this simple cleaning process, your shower curtain will look as good as new. Keep your shower curtain clean is only a small part of

regularly maintaining

your bathroom clean. You should thoroughly

deep clean

your bathroom at least once every 6 months to prevent, mould, bacteria and mildew from building up. And that is in addition to your regular weekly cleaning. For best results, you can always consider a

professional cleaning solution

and a

deep cleaning service

.

Suggested: How to clean a washing machine. Using eco-friendly and homemade detergents to eliminate bad smells and mould from your washing machine.



Bonus Cleaning.