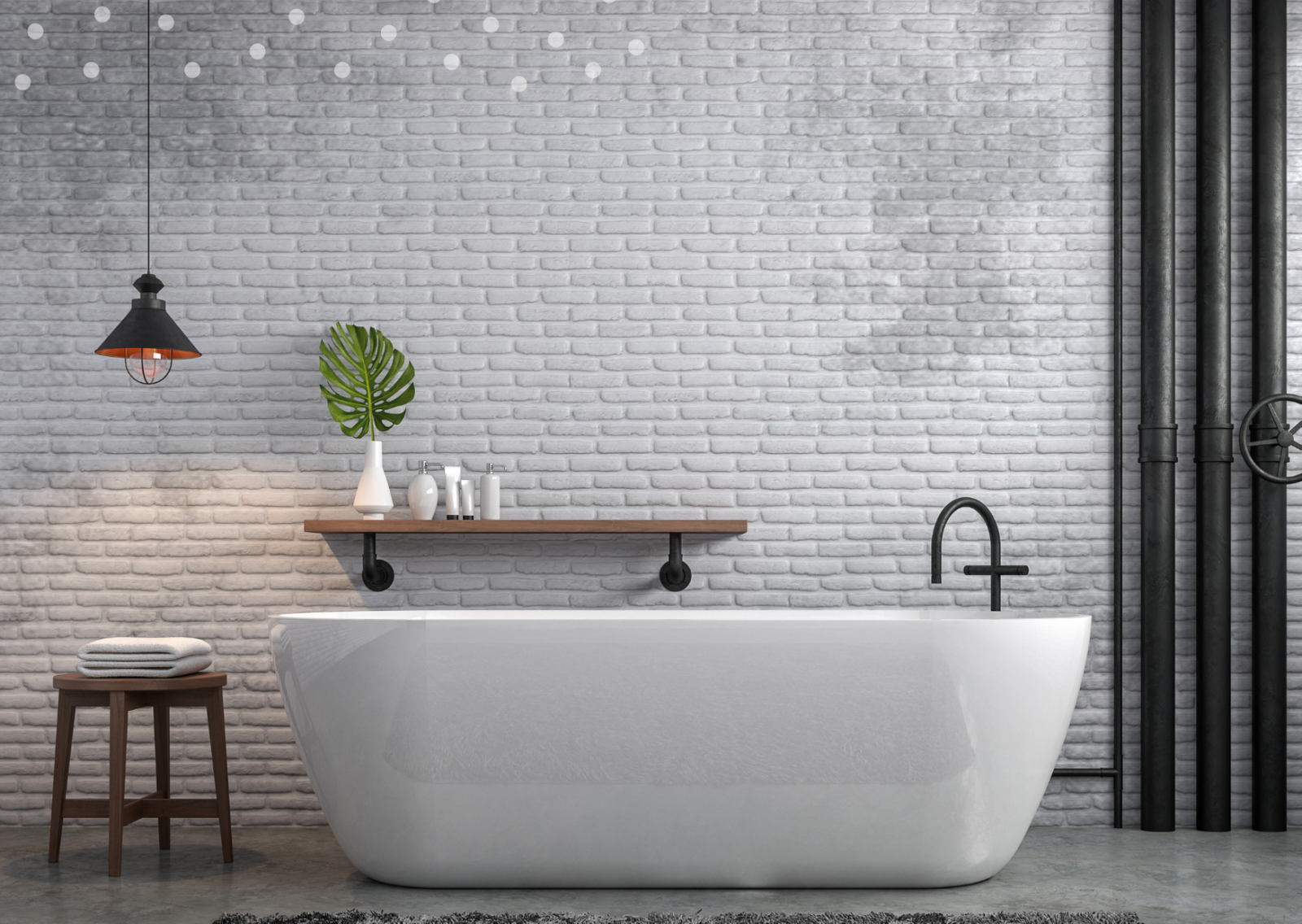 We would all like to have one of those large and stylish Bathrooms, the ones we see in magazines. However, unfortunately, those are a rarity. It is not often that we will have enough space for a large bathtub, a double-sided shower screen or shelving all over the wall. Do not get discouraged by this. We can offer several ideas you can use to mask the actual size of your bathroom. If you are ready to embark on a larger scale remodel and fully renovate your Bathroom, definitely contact a professional company that can realize the vision you have for that space. However, by simply following the tips we will list below you can truly transform your Bathroom into something magical.

1.Use the wall space you have wisely.
A few extra shelves here and there will not hurt. Just look around your Bathroom and go to town, you can combine the extra shelving with the general idea of the interior in your Bathroom, you can paint them in several colours close to the original colour, by doing so you will liven up the Bathroom and give it a more fun appearance.

2.A Small Bathtub.
There are all kinds of bathtubs available on the market today. Use that to your advantage. Pick an appropriate size for your space. You can also play around with colours as there are many shades to pick from you are not limited to the classic white. Materials can also vary. The combinations are there to ensure that whatever design you have chosen and whatever taste you have you will be able to find the bathtub that fits you.

3.Mirror mirror on the wall.
Do not hesitate and invest in a good mirror. You can get several in fact, and arrange them in such a way that they create the visual illusion of more space. If that is not to your liking you can always go with the classic choice, a cupboard with mirror doors.

4.Use the corners.
Remember corners are not lost space! You just have to be creative. Any corner fitting cupboard or shelve is the perfect solution for irregularly shaped Bathrooms

5.A standing hanger or a hanger that is attached to the wall.
We usually go with a hanger that is attached to the wall. However, both of them have their advantages- the idea of a standing hanger is quite functional, as it offers more space than the one that attaches to the wall. And there are designer variations with which you can decorate your bathroom that are complete works of art.

6.An open bathroom.
It is no longer necessary for your Bathroom to be a separate space. Invest in a good bathtub and simply divide it via a screen from your Bedroom. You can also go with a contemporary designer solution have the bathroom and bedroom be one space.

7.Visual magnitude.
For your Bathroom to be truly beautiful you can create the impression of spaciousness. One of the things you can do to make it so, without having to tear the walls down, is to create a visual colour difference. In this case, white is your best friend - use it boldly. Despite, making the room look bigger this fresh colour makes your bathroom look clean and well maintained.

8.A Cupboard above the door.
If you have enough space between the Bathroom door and the ceiling you could place a small cupboard there. If you've ever wondered where to put all your cleaning detergents so that they are far away from the reach of your kids or pets, well this can be the solution.

9.Use the architectural peculiarities of your Bathroom to your advantage.
Does your Bathroom have several specificities? Are the ledges of your windows wider than normal, is one of the walls sloping down? Use those! Every architectural peculiarity can be turned in to fantastic storage space, just have a look at your Bathroom and find inspiration.

10.Keep it clean.
It may sound redundant but a clean and tidy Bathroom is the first step towards functionality and style. Despite having a Bathroom that is limited as far as space goes that does not mean that you are not able to transform it into your little practical slice of heaven. If any of our suggestions is to your liking, however, you are not certain how to proceed you can always leave the hard work to the pros. Remodel your Bathroom and have it professionally cleaned after. Even if you do not renovate it you will be surprised what a transformative effect a simple deep cleaning and tidying of the Bathroom will have on that room.