How to Clean Mould - 7 all natural and simple tricks to eliminate mould from your home | Bonus Cleaning
Air circulating in the room helps the spaces dry on their own and changes the environmental need for fungus and bacteria to develop.


Mould can develop in your home easily, it is usually caused by the type of material your upholstered furniture is made of, climate conditions or the lack of proper ventilation.

Mildew is unpleasant and can pose a hazard to your health. Mildew not only contributes to mould developing by creating specific conditions for its growth but can also lead to mites.
Mildew leaves unsightly stains on the corners of your walls and with time, you can develop allergies and respiratory problems. Mildew can strip the colour off of your walls and can lead to cracks appearing.
Luckily there is a cleaning solution you can employ. There are a few all-natural ways you can use to remove mildew and prevent it from coming back from the areas it previously affected in your home. On top of that, the affected areas will both look and smell better after you have treated them in the ways we suggest.

Mould can develop in a few different spaces of your home, however, often it develops on the walls. We at

Bonus Cleaning

offer many different

cleaning services

, however, walls and ceilings are exceptions to most of them. If you use a

professional cleaning company

for an

End of Tenancy Cleaning

or

Deep Clean

odds are they are not going to be able to touch the walls even if there is mould on them. But there are ways you can remove mould from your walls and keep it off for good using simple tools, equipment and materials.

We will list 7 of the best mould cleaning tactics you can use. They are readily available, all-natural and can produce the same if not better results than if you were to use chemicals.
1. White vinegar.



White vinegar is one of the best natural products you can use to eliminate mould and mildew from your home. You can use white vinegar for mould cleaning on virtually all surfaces- on the walls, in the kitchen, in the bathroom even on your clothes.
Despite the less than pleasant smell, it will leave cleaning mould with white vinegar is probably your best choice when it comes to removing mildew and moisture from any area of your home.

Ingredients.
1/2 cup white vinegar
1/4 cup water
1 spray bottle
Directions.
Dissolve the white vinegar in the water and pour the solution into the spray bottle. Shake well and spray over the areas that have been affected by mould or mildew. Leave it to dry completely. Repeat this process daily for about a week. If the stains are specifically stubborn you can use non-diluted vinegar.
2.Open your windows regularly.


Opening your windows periodically is an effortless way to prevent mildew, mites and other impurities from building up. Air circulating in the room will easily help the space dry and changes the environment that is needed for fungus and bacteria to develop. The same thought applies when you open up a window every time there is an unpleasant smell that may be trapped in your home.

Suggested:

5 All natural and harmless detergents you can use to clean your home.
3. Do not try to hide mould or mildew stains.



Many of us will strategically place furniture or other items in front of the mould stains on walls in an attempt to cover them up. The problem with covering these stains is that that will prevent air from circulating them and will contribute to mould development. A better option is to move furniture away from areas that have been affected by mould so that air has enough space to freely circulate these areas and allow them to dry.
4. Do not leave wet laundry out in the rooms.


One of the most common mistakes you can make that will help mould and mildew and bad smells develop is leaving wet clothes out to dry after you have taken out a fresh batch of laundry. This easily helps mildew develop, prevents clothes from drying correctly and can leave an unpleasant and hard to deal with smell in your home.

Suggested:
7 Tips and tricks for cleaning your home without using chemicals.
5. Baking Soda.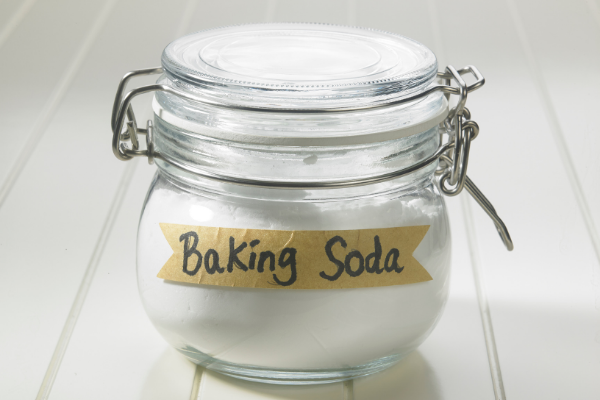 Another all-natural mould removing solution is baking soda. Baking soda is not particularly aggressive or corrosive, however, it does possess antibacterial and antifungal properties and is potent when it comes to absorbing smells.

Directions.
Rub a small amount of baking soda over the mould affected spaces and leave it for a few hours. Remove using a brush. To prevent mould from appearing again you can place a small amount of baking soda in a small plastic container and leave it around the places where mould usually tends to develops.
6. Sea Salt.


Sea Salt is a natural ingredient that can help in removing mould from any enclosed space. It is a natural disinfectant and neutralizes pungent smells. Sea Salt also prevents black mould from developing.

Directions.

As a preventative measure place a small amount of sea salt in a small food container or plastic bag and put it inside any of your cupboards. Replace the salt monthly.

Suggested:
House Cleaning Tips and Tricks that will save you time.
7.Borax.


Borax (sodium borate, sodium tetraborate, or disodium tetraborate) has strong fungicidal properties. Unlike other chemical agents, for example, bleach, borax is not aggressive and does not pose a risk to the environment. Borax can be used in many places around your home and its uses are not limited, but what is important for us is that borax is excellent in removing mould.

Directions.

Make sure you are wearing gloves if you are going to be using borax. Dissolve two tablespoons of borax in two litres of water. Apply over the affected spaces with a brush, leave for half an hour to dry and wipe away with a clean towel.


As you can see there are many different ways to eliminate and prevent mould or mildew from building in your home. By following our instructions you can say goodbye to mould in your home forever.