What advantages does steam cleaning have over cleaning your furniture on your own?


Have you ever spilt coffee, juice or tea over your couch and thought "I'll be able to clean that, there's no need to call a cleaning company". Well, odds are that there is because you most likely did not manage to remove the stain from your upholstered furniture. There is a huge difference between cleaning your furniture alone with supplies you already have on-hand and calling a professional cleaning company.

What you most likely did when you tried to get that stubborn stain out of your sofa was use strong detergents and a stiffer brush, to try and scrape the stain off. By doing so you are essentially ruining your upholstery, it can very easily discolour or worst-case scenario it can tear. Most of the commonly available stain removal solutions are very harsh. Also not having the proper experience and knowledge may lead to disaster. If you try scrubbing stains from your upholstery you are removing only the surface layer of soiling, the detergent you are using and the liquid you spilt will remain deep in the fabric of your sofa. By trying to scrub the stains you are very likely to set them in permanently in the fabric of your couch, making it virtually impossible for the stain to be removed after.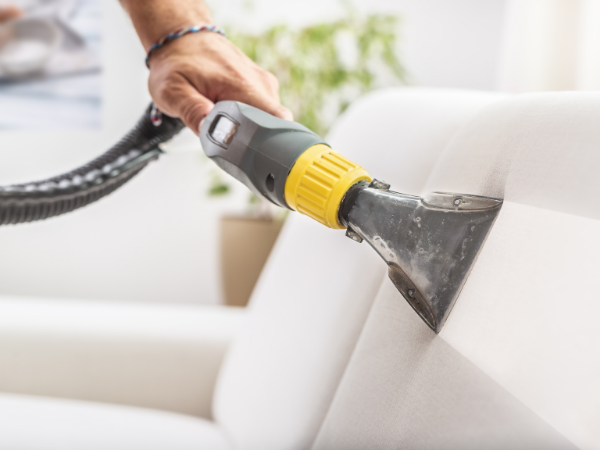 This is why we strongly suggest that you turn to a reliable cleaning company. Professional cleaners have the necessary tools and knowledge to remove even the most stubborn stains. After letting your sofa dry for a few hours it will look as good as new but if you try to clean it on your own it may take you the better part of half an afternoon or even a few days to achieve the same result.
There is no pressure involved in the professional upholstery steam cleaning process, extraction machines have a powerful vacuum that eliminates soiling. We can easily steam clean your sofas, mattresses, dining chairs and armchairs. After the steam cleaning process, your upholstered furniture will look brand new. No traces of soiling or detergents will be left and our cleaners use special perfuming solutions which leave a pleasant scent.