Commercially available laundry detergents can cause skin irritation and a wide array of problems. You can effectively make your own homemade laundry detergent by following a few easy steps.



If you have sensitive skin or are worried about your children on baby's skin you probably have considered homemade alternatives for the commercially available brands of laundry detergent. The same types of laundry detergent we know contain perfumes, colourants and different ingredients that may cause skin irritation, allergies, rashes and other health-related issues.
We will share 3 recipes for homemade laundry detergents which will be suitable for both parents and fans of eco-friendly cleaning solutions.

Liquid laundry detergent made from soapberries.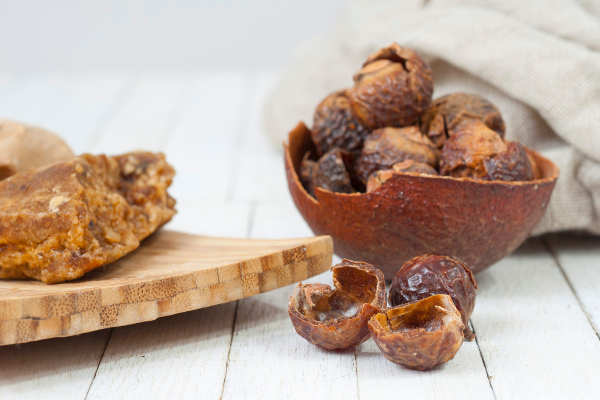 Soapberries or soap nuts, although technically not a nut, are a type of fruit, that grows on shrubs or trees, from the Sapindus (lychee) family. Soapberries grow in warm tropical climates. In India, soapberries have been used for centuries for cleaning as well as in alternative medicine. While not particularly easy to get hold of soapberries can offer a fantastic alternative to commercially available laundry detergents. You can find them here.

Suggested: How To Wash And Clean Your Shower Curtain.
For cleaning purposes, you have to use the dried shells of the berry. To create your homemade laundry detergent you will need



◦ 14 to 15 dried soapberries
◦ 6 cups of water
◦ a few drops of essential oil (optional)

Crush up the soapberries using your fingers, place them in a saucepan and cover with water. Place the saucepan on the heat and bring up to a boil. Turn the heat down, reduce to a simmer and simmer for 30 minutes. You will notice that faint soap bubbles will start appearing on the surface. Turn the heat off and leave to cool. Optionally you can add a few drops of your favourite essential oil. The essential oil will add a pleasant aroma to your homemade laundry detergent as soapberries have absolutely no smell. Store this mixture in the fridge and use it as needed in place of other liquid laundry detergent solutions.
Soapberry laundry detergent for strong stains.
If you often have to wash severely stained clothes the first recipe may not be strong enough to combat strong stains.

This recipe is stronger when combatting stains, however, is also an eco-friendly alternative to regular laundry detergent.



Suggested: A Brief History Of The Oven- From Early Ovens To The Microwave.
The ingredients you will need are



◦ 5 dried soapberries
◦ 4 tablespoons of borax
◦ 5 drops essential oil (optional)

Use a food processor or a blender to grind the soapberry shells. Add the borax and the essential oil, add 2 tablespoons of the mixture every time you are doing laundry. This laundry detergent will effectively eliminate strong dirt spots from your clothes without irritating sensitive skin.
Dry laundry detergent using natural soap.

While effective soapberries can be a bit difficult to get hold of. You need to order them online, however, there are more traditional laundry detergent alternatives you can easily fabricate on your own in your home. The ingredients used for this recipe will create a powerful formula for combatting stains and dirt that does not irritate your skin.

Suggested: How To Clean Up After Your Pet - 5 Useful tricks to keep your home clean.

You will need the following ingredients



◦ soda crystals (also known as washing soda)
◦ 1 cup of borax
◦ 1 cup finely grated all-natural bar soap

Mix the ingredients well and transfer the mixture to a jar. Use 1-2 heaping tablespoons for every 5-6 kg laundry. The main advantage of this recipe is that dry laundry detergent is particularly durable and can be stored for a long time. Soda crystals are not the same thing as baking soda. They have been used for a long time specifically for laundry. They are produced from the ashes of plants that grow in particularly sodium-rich soils. This is why soda crystals are also commonly known as soda ash. Soda crystals are much less difficult to find in grocery stores than soapberries, however, if you are unable to find them you can always order soda crystals online.

Suggested: How to clean a washing machine. Using eco-friendly and homemade detergents to eliminate bad smells and mould from your washing machine.

Soda crystals can be found here.

Bonus Cleaning.