-

7 Steps to remove nail polish out of your carpet.





It is quite often when you are doing your nails that your nail polish seems to end up miraculously over your carpet or rug. It is a truly horrifying sight. Red nail polish can look fantastic on your nails, however, it does not appear to be so incredible once it has been spilt over your carpet at home. However, accidents do happen, and as we have mentioned before when discussing removing stains from carpet at home, the most important part is to act quick.
Nail polish and any stain from a chemical nature are probably the toughest stains to remove at home on your own. You can attempt to do so, however, in this instance, a professional carpet cleaning solution might be a better choice. Contact a local reliable cleaning company and inquire in regards to carpet steam cleaning. Nail polish is particularly stubborn. Professional carpet cleaning will produce the best results.
Anyone who uses nail polish has at least on one occasion gotten some of it over furniture, clothing or as we are going to observe over the carpet. Anything can be cleaned if you act quick enough, use the right detergents and have the necessary patience. Patience is crucial if you get nervous or anxious you can ruin your carpet. Act calmly and bear in mind that every time you are cleaning the carpet you will need a certain level of decorum. Despite being stubborn if you act quick enough you can completely erase nail polish stains from your carpet in a few simple steps.
7 Steps for removing nail polish out of your carpet.


1. Soak up the stain.
As with most other stains the first step in the stain removal process is to remove as much of the nail polish as possible. Soak up the stain using an old towel you do not care much about. Be very careful when you are trying to soak up the stain avoid smearing or spreading the nail polish over your carpet. Do not work in circular motions and work calmly and patiently. It is very easy to start spreading the stain if you are not careful, let the towel do the work and attempt to collect as much of the nail polish as you can, removing most of it now from your carpet will only make the cleaning easier later on.
2. Use a blunt metal object.
Use a blunt metal object, for example, the end of a spoon, to remove, even more of the nail polish. Be very careful and do not press. If you apply too much excess pressure the stain can penetrate deeper into the carpet fibres, moreover, the actual fibres of your carpet can be damaged.
3. Moving on to cleaning.


Now calms the difficult part of the stain removal process. You will need to clean the stain using the end of a clean, white, cloth sheet. Dip the end in some nail polish remover and being careful and patiently treat the nail polish stain. You can use acetone or nail polish remover, however, be extremely careful. Use as little acetone or remover as you can, using too much can seriously damage your carpet and having a nail polish stain on it will be the least of your problems. Do not forget to ventilate and air out the room and use gloves.

4. Repeat the soaking and cleaning process.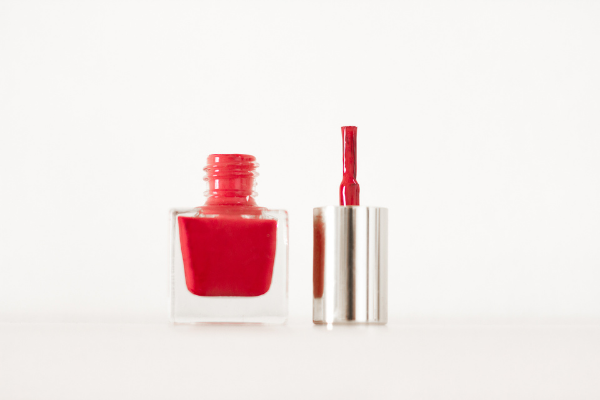 After using acetone or the remover grab a clean towel and again soak some of the stain up. Repeat this process until the stain is much less visible.

Suggested: How to remove carpet stains? Homemade carpet cleaning solutions.
5. Make your cleaning solution.
Fill a spray bottle with water and add a single tablespoon of oxygen bleach (or all-fabric bleach). You can squeeze by and try and use regular bleach although that is not recommended as it can drain the colour of your carpet and in effect ruin it. Oxygen bleach is much safer for colour and fabric protection.

Suggested: How To Get Coffee Stains Out Of Your Carpet- Homemade Cleaning Solutions for Coffee Stain Removal.
6. Treat the stain again.


Spray the area of your carpet that had the nail polish stain on it and wait 5 -10 minutes.

7. Dry the area again.
Blot the area and stain using a clean, dry cloth or rag. Do not use paper towels or kitchen roll, they will turn to mush and leave traces all over your carpet fibres. The nail polish stain should be eliminated from your carpet at this stage.
Suggested: How To Clean Your Kitchen Quickly.
If you follow these steps you should be successful in eliminating the nail polish stain from your carpet. However, the process is tricky as nail polish is a specific chemical agent. Removing chemical stains from your carpet effectively is difficult. If you find the process challenging, do not want to risk it or the stain is still present you can always turn to a professional cleaning company. A carpet steam cleaning service will produce results you simply cannot achieve at home. Scheduling a carpet cleaning service with a reliable cleaning company is your best option for eliminating the nail polish stain from your carpet.
Please remember to always read the instructions of any product or detergent you are going to be using carefully. Test the product in a hidden area of your carpet or rug before you move on to cleaning exposed areas and treating the stain. Do not think that by using more detergents or acetone you will achieve better results or you will clean your carpet more quickly. Doing so will complicate the carpet cleaning process. Use as little detergent and acetone as you can. Act calmly and patiently and remember if you simply do not want to risk it there are professional cleaners out there who will gladly take care of that pesky nail polish stain!

Bonus Cleaning.