No matter how careful we are, sooner or later spilling coffee over your dear carpet, sofa, pillowcase or even mattress is almost an inevitability.



Many of us have lived through the horror of witnessing a coffee spill on our living room carpet.

All coffee connoisseurs know the brown ring-shaped stains coffee cups leave. These stains can be found everywhere around your home, over newspapers, on the countertop on the coffee table and in all other imaginable places. The worst-case scenario also often happens, coffee can wind up over your carpet. As is usually the case with stains on your carpet acting as soon as the coffee stain appears is the most important part.
If you would like to preserve your carpet fresher, cleaner and looking its best longer you have to learn how to deal with various stains that may over time occur. You will need expensive equipment for stain removal at home, if not you can try several homemade cleaning solutions.
You can gather disinfectants, towels, vacuum cleaner and expensive detergents to treat your carpet, you can try homemade cleaning solutions and yet there is never a guarantee that you will be able to get that nasty coffee stain off of your favourite floor covering. With stain removal, the process is never certain. In all honesty, your best option is to reach for a professional cleaning company and a carpet cleaning solution. Professional cleaning services will include detergents and equipment you cannot feasibly gather on your own. The fresher the stain is the bigger the chances that it will be removed. Carpet steam cleaning is the best and most effective option to eliminate stubborn stains from your carpet.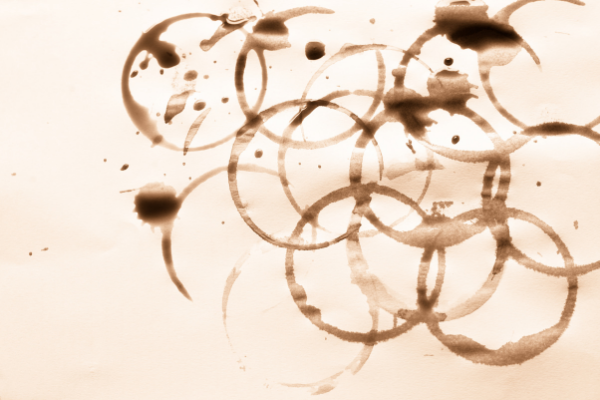 As with most stains on your carpet, the most important part is to act as soon as the coffee stain appears.

Use paper towels or cloth napkins to soak up as much of the spilt coffee as possible. Do not scrub the stain, that is crucial, scrubbing will set the stain deeper in the carpet fibres. Judge the material of your carpet. If your carpet is worn out or is an antique you should directly turn to a professional cleaning company, do not risk further damage.

You should always test the cleaning solution you are going to use to treat your carpet with.

You want to make sure that the detergent does not bleed the colour from your carpet or does not discolour it. Test the detergent over a hidden area of your floor covering before starting the cleaning process.
Apply the carpet cleaning solution over a hidden area of your carpet before moving to exposed spaces where the coffee stains are. This is done to avoid any further damage to your carpet and to see if the detergent you have chosen applies to your specific floor covering.

Apply the mixture over the stain using a sponge or a spray bottle. After using a different clean piece of paper towel or towel gently foam up the cleaning solution. Keep repeating this process until the stain is completely removed. If the stain is not eliminated after several attempts it is best to consider alternative means, a professional carpet cleaning solution.
If the stain is eliminated by this method moisten the spot where the stain was with a little bit of warm water and dry it off. To dry the area you can use a piece of paper towel, a piece of cloth or a special mop designed for wet cleaning.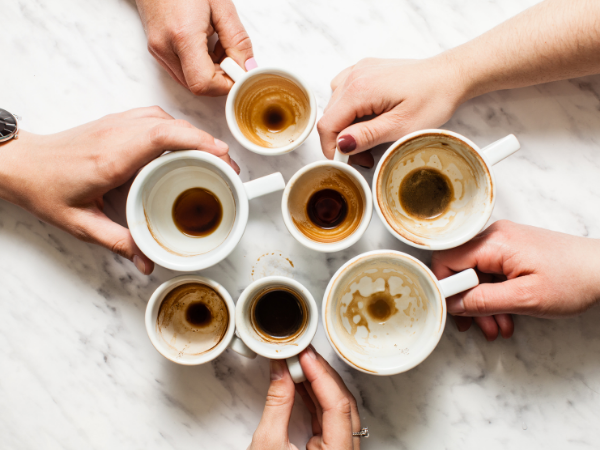 It is important to treat the stain as soon as it appears.

Cleaning old coffee stains from your carpet is incredibly difficult. It is especially unpleasant if you had milk or cream in your coffee, they will spoil on your carpet with time and a nasty smell will appear.

However, immediately noticing a coffee spill is not always possible. Regardless of the method you choose, professional carpet cleaning or using vinegar, towels and other homemade cleaning solutions time is not your friend. The stain should be treated as soon as it appears. Choose your method, gather your supplies and commence with the cleaning.

If the stain is still fresh mop it up with a piece of paper towel or a soft napkin. This will help absorb residual moisture which can spread and make the stain even bigger. This is the first step in the carpet cleaning process, absorbing as much of the stain as possible now will make it easier when you try and remove the stain later.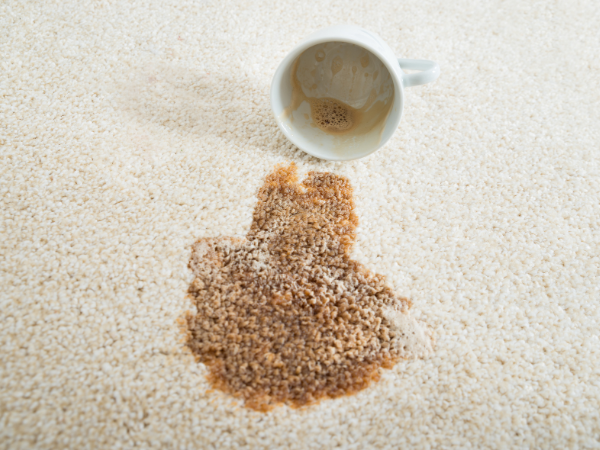 Rinse with cold water.

Using a bowl filled with a cold water rinse the stain on the spot. Do not scrub the stain. Keep repeating the rinsing process for about 3 to 5 minutes. Gently and carefully try and remove the stain with the cold water. If necessary you can apply to the abovementioned cleaning detergent.

You can alternatively use a laundry detergent, rub a little bit of laundry detergent in the coffee stain until the surface is visibly cleaned. Leave for 5 minutes and wash the treated coffee stain with cold water. If none-of these cleaning solutions have worked and the coffee stain is still present on your carpet you can try to deal with it using vinegar. Mix some laundry detergent with equal parts vinegar and water, use the resulting paste to treat a small, hidden patch of your carpet to determine if the mixture will damage or discolour your carpet. If no signs of damage or discolouration appear use the resulting mixture to treat the coffee stain. Use an old toothbrush to rub some of the vinegar cleaning paste in your carpet after rinse well using cold water.

These are some of the easiest and most commonly available methods to clean coffee stains from your carpet. Using these readily available cleaning solutions you can try to remove coffee stains from your carpet without having to use special methods. However, coffee stains on your carpet are more common than you can presume and at the same time, are difficult to eliminate on your own. Coffee stains often go unnoticed and can linger and set in your carpet for a long time. Even if the coffee stain is fresh there is no guarantee you will be able to eliminate it on your own. If you tried and failed to eliminate coffee stains from your carpet you can always turn to professional help.

Bonus Cleaning.