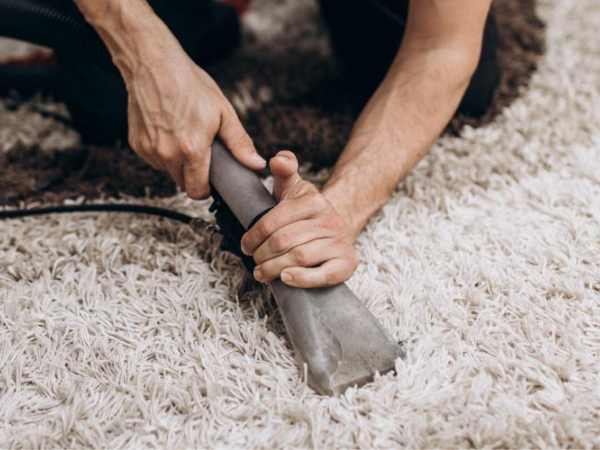 Carpet is one of the most popular floor coverings not only in the UK but globally. Usually, carpets are put in Bedrooms, Living Rooms, Dining Rooms, Hallways, Staircases and they create a sense of comfort and in a way tie the room together.

Carpets, in general, have their own specificities and particularities, which make them, in turn, a bit harder to maintain. This type of floor covering differ in colour, make and type. They can be woven together, made of swede, with cut fibres etc.


In most cases, carpets are attached to the corners of the rooms and are pressed in with an edge that completes the look of the floor covering. This, however, has one major disadvantage. Despite the carpet looking esthetically more pleasing and complete, the fact that is attached to the floor itself suggests that it is impossible for it to be removed from the spot it is attached to.

Additionally, unlike rugs, over which we may usually place a single coffee table or a sofa, the entirety of the furniture in our house can be placed on top of the carpet.

All of the above mentioned suggests that when cleaning a carpet we will be faced with challenges that are not typical for other types of floor coverings. Carpets have to be cleaned on the spot because every other way would be either an impossibility or would cause major inconveniences.

How do we wash the textile floor coverings in our home?

Doing this by ourselves significantly narrows the possibilities we have. However, there is still some choice we have. We will not be limited by only one possibility. Speaking in the broughtest sense possible we have a choice of whether we wash our carpet ourselves or we seek professional help, from a specialized company.

How do we clean carpets by ourselves?

The first option we have is to clean our carpets with the supplies we have on-site in our home. A bucket, a brush or a mop, for detergents you can use dishwashing liquid, laundry detergents, soap or a special carpet cleaning detergent.

The best option you have would be the carpet cleaning detergent because the main thing dishwashing liquid counteracts against is grease stains and soap can leave quite unpleasant stains on the fabric after it drys. It is important to use just a little bit of water and detergent and for the water to be as hot as possible. Of course, the temperature of the water must be such that we can comfortably carry out our task without the danger of burning ourselves.

Using as little water and detergent as possible will help us with not having to change the water several times while cleaning an entire room. In such a way you will not use the same water over and over again for the whole carpet, something that may in fact soil the carpet instead of clean it. Use a brush with artificial hairs, which after cleaning the carpet you should thoroughly clean and let air dry in a warm, sunny place. You could also use cloths. Ideally, you will use an old shirt, simply cut out pieces of cloth from the shirt and then throw them away when done.

DIY cleaning your carpets in such a way has some major disadvantages. When we clean our carpets in such a way, for example, we cannot use that much fresh, clean water, we cannot use temperatures that are high enough and detergents that are strong enough, in addition, this method lacks speed and intensity. The fact that we are limited by the specified constraints means that for example, it could be possible for some of the most hazardous and durable germs to remain alive in our carpet, while in the meantime we are under the presumption that everything is safe. Only mites, which, themselves are quite harmful to our health, can be drastically diminished by this method, however, not to the extend we would like.


Hiring a professional company to clean our carpets.

Most companies that offer Professional Carpet Steam Cleaning will send a fully equipped technician who will attend on-site in our home. Which for carpet floor coverings is of prime importance because, as mentioned above, it is not possible for carpets to be removed and taken to another location where they are going to be cleaned.

The average duration of the visit will be about an hour, which could be a bit more or less, dependent on the area that is to be treated. After the cleaning, your carpet will be transformed, it will not only be sparkling clean but moreover, it will have an unmatched pleasant scent and aroma. The hour the service usually takes is much less time than the time you will spend cleaning your carpet alone. Doing so by ourselves may mean that we sacrifice an entire afternoon scrubbing the carpet with no visible result.

A cleaning company can steam clean your carpets using special detergents and equipment and using a special technique which will give us much better results. Additionally, the company can use hotter water, which will destroy much more germs and mites. Let's not skip over the detergents themselves. The ones used by professional cleaning companies are much more potent and effective than those which are commercially sold in most stores.

It is very much recommended that you leave this task to the pros if you believe your carpets may be dirtier than average and if you have any visible stains that are not able to be removed just by washing the carpet by hand. Relying on a professional carpet cleaner will solve all of your problems because after an expert cleaning the likelihood of a stain remaining is close to non-existent.

To conclude. Regardless of the method you choose try and give it your best. If you would like to clean your carpets alone, make sure you do not give up and aim for the best outcome possible. If you would like to rely on a professional cleaning company, make sure you choose professionals you can trust, a company your friends or family can recommend and the one that offers the best possible offer to you- great services at the best possible price.