Quick Tip - A Few Useful Oven Cleaning Hacks | Bonus Cleaning
We know oven cleaning is one of the aspects of cleaning most of us usually look forward to the least. But keeping your oven clean is important. There are a few oven cleaning hacks you can use to speed up the process of cleaning your oven and make it easier as well.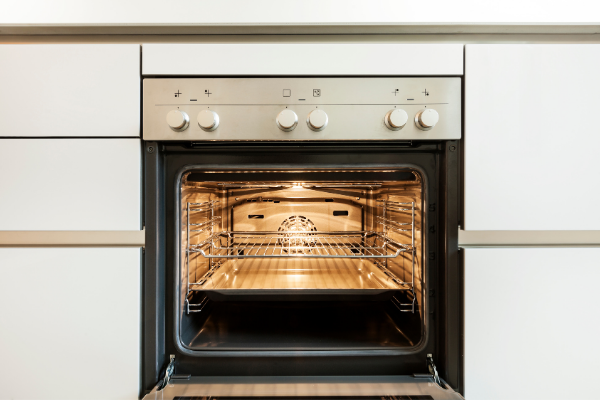 As far as cleaning tasks go oven cleaning is probably one of the least enjoyable ones we can imagine. And understandably so,

oven cleaning

is can be a particularly challenging task. The thought of having to scrape off months (or years) of burnt-on residue from your oven is not an enjoyable one. And especially if you think that it can take the better part of an afternoon to do so, oven cleaning becomes even less enjoyable. You could reach out to a reliable

cleaning company

and schedule an

oven cleaning service

. However, you can with the right knowledge and a little bit of patience you can thoroughly clean your oven alone. There are a few oven cleaning hacks you can use to speed up the oven cleaning process and restore your oven to its former shiny glory.

After months of use, your oven will become quite dirty. Grease and carbon deposits and any food residue will turn to carbon after being constantly exposed to heat. This will not only cause a strong odour to emanate from the oven but it will make your food taste worse and may increase utility consumption and on top of that also poses a fire hazard. Needless to say, it is very important to regularly clean your oven.

The first and most important step in your DIY oven cleaning journey is to determine what type of oven you have. Different ovens require different cleaning methods.

A self-cleaning oven - a self-cleaning oven has a function that allows you to heat the oven to such a high temperature that any food residue and build-up will turn to ash.

Regular Ovens- regular ovens without self-cleaning functions have to be maintained and clean periodically, unfortunately by hand. These ovens will be our focus today as we offer our oven cleaning solution.

Pick the right time to clean your oven. Make sure the kitchen is empty and no one is using it. Open a window to make sure that you do not breathe in any oven cleaning fumes.

Regardless of the type of oven, you have considering professional oven cleaning is a good idea.

However, cleaning your oven regularly will help prolong the life of the appliance. There are several oven cleaning tips you can rely on to quickly and effectively clean your oven.

You don't need much in the way of detergents or oven cleaning tools to effectively clean your oven. You will be surprised what type of results you can get from oven cleaning with baking soda. There are special oven cleaning products you can use but often a little bit of baking soda or some vinegar, plain dishwashing soap and a few cotton cloths will be all you will need.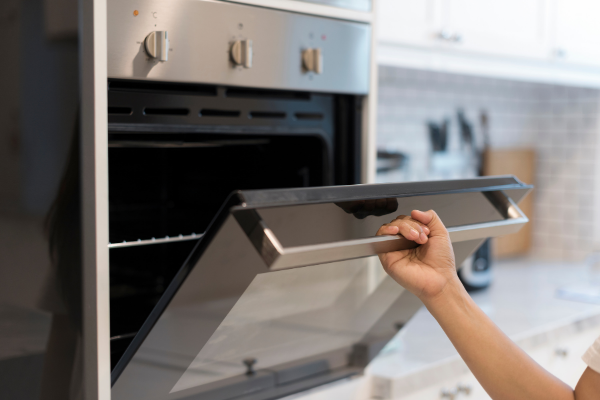 Start with the oven door.
The door of the oven, as well as the burners, hob and the cooker, should be cleaned immediately after you have used them. Any oil or other splashes will not be completely dry yet. To remove any traces of food particles you can use a cloth and a mixture of tepid water with about 1 tablespoon of vinegar in it. To clean the splashback you can use the same window cleaning detergent you use on your windows. It is very important to carefully clean the seals of the oven, they, as the name suggests, seal the oven and keep heat in if they do not make a strong enough seal because they are dirty your oven will not function properly and will not retain heat.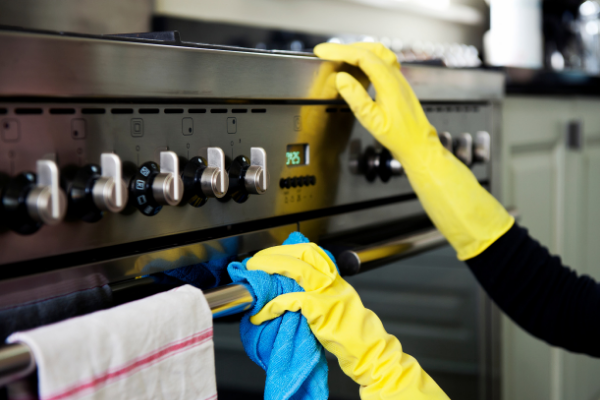 Remove and clean the racks and the oven trays.
The racks can get dirty easily and fast and are notoriously hard to clean. The same applies to the oven tray. If you have any food residue on the racks you have to soak them in water. If your oven racks are made from stainless steel you can add baking soda to the water. If your racks are made from any other material we would advise against adding baking soda, it can ruin the outer layer of the racks and the trays. In such instances, you are better off just using water or water to which you have added a little bit of dishwashing liquid.
Cleaning the inside of the oven.
However, to clean your oven internally you can use baking soda. Dissolve some baking soda in a little bit of water until you get a thick cleaning paste. You will get even better results if you add a little bit of salt to this solution. This cleaning solution is not only effective but also all-natural and eco-friendly.
Apply this home-made oven cleaning solution on the internal surface of the oven and leave it to saturate overnight. If the internal surface of the oven is really dirty you can let the baking soda sit for up to 24 hours and after just wipe it off with a damp paper towel or a cloth.
You can also use vinegar to clean your oven, but you have to heat the vinegar with the oven on. This oven cleaning method is relatively quick and you need only a small amount of vinegar. Fill a metal bowl or any oven-safe container with a little bit of vinegar. Put the container with vinegar in it in the hot oven and shut off the heat. Leave the bowl inside the oven until your oven is completely cold.
If you don't have any or do not want to use the vinegar you can still try the same method but use dishwashing liquid instead. The same principle applies, heat the oven and leave it until it is completely cold.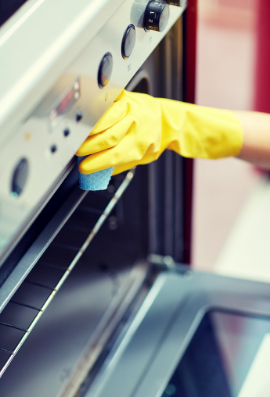 Cleaning around the hob and burners.
The first rule when it comes to cleaning the hob and burners of your oven is the burners must be completely cold. The process depends on the type of burners you have. The easiest to clean are plain electric hobs. You can use the baking soda paste here as well. You don't need to wait for the solution to dissolve any traces of last night's dinner that may be stuck to the burners. Usually, 15 minutes is enough.
You can use baking soda to clean ceramic hobs as well. Sprinkle some baking soda on top of the hob and cover the burners with a moist towel that has been dipped in dishwashing liquid and water. 15 minutes later your ceramic hobs will shine, all you have to do is wipe the baking soda and dishwashing liquid off.

If all of this seems outside of your reach and like a task that you would rather not spend time and effort on you can always opt for a

professional oven

cleaning service from a reputable

cleaning company

.