Spring is the ideal time to completely clean your home. Remove cobwebs, organize every single drawer and embark on a deep cleaning journey.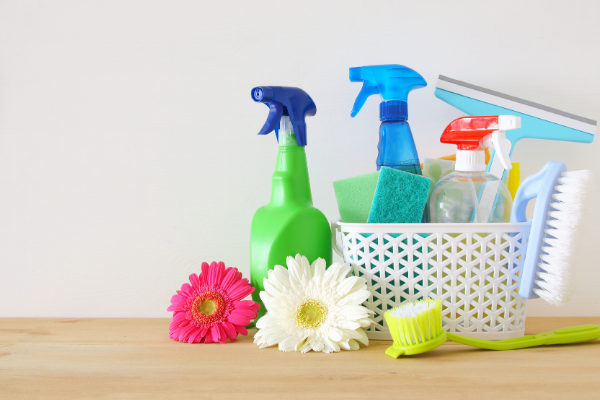 It is hard to argue that spring is the best time to clean your home from top-to-bottom. This may seem like a difficult challenge, so remember you can always reach out for professional help. There are cleaning companies that will completely deep clean your home. Deep cleaning is an extensive cleaning everything from the skirting boards to the oven has to be cleaned. So you could reach out for professional help. However, you also carry out a full spring cleaning of your home on your own. All you need is time, a plan and to stay organized. So make sure you get as many hands on deck as possible. Roll up your sleeves, pull up your favourite playlist and begin!
1. How to spring clean - Create a spring cleaning checklist.
Carrying out a full deep cleaning of your home may seem discouraging. If you create a deep cleaning checklist you will be able to focus on all the little spaces and the small nooks and crannies that usually go unattended. Go around every room and create a list of what you have to clean and arrange in each room. For example here is a bedroom cleaning checklist.
Decide which clothes you no longer need and can donate.
Remove dust from all shelves.
Arrange your wardrobe.
Remove all little items you may have on shelves or cupboards, dust them and put them back.
Clean wardrobes from the inside after you have removed your clothes. Get your family involved and delegate, let them know that each of them has a task they are responsible for, remember you are in charge.
2. How to spring Clean- Write your spring cleaning checklist and make sure you have all the necessary equipment.
Before you start listing what you have to clean around the house make sure you have all the needed deep cleaning tools. To thoroughly clean your home you will need garbage bags, rubber gloves, cleaning detergents, a mop and bucket, bathroom cleaning detergents, paper towels, cloths for surfaces, just to name a few.
3. How to spring clean- remove all the unnecessary items from your cupboards.
Empty all your cupboards and drawers and check everything you own. Sort out all the items in three groups- the ones you will keep, the ones you will throw away and things you can donate to charity.
4. How to spring clean- dust the inside of the cupboards.


Now that you have emptied all your cupboards and have your belongings stored into separate piles the next step you have to do is clean the inside of the cupboards. Wipe them with a bit of moist paper towel. Make sure you use a paper towel that will not tear when wet, you can also use cotton cloths instead.



5. How to spring clean- organize your home.
Any decorative items or books you have on your shelves should be dusted before they are put back in their place. You just wiped all your shelves and cupboards if you do not dust everything that you store on them they will just make the newly clean areas dirty again. This is one of the tasks you can get the kids involved with as well.
6. How to spring clean - clean your kitchen and bathroom.


When you are deep cleaning your kitchen do not forget to clean all countertops and the kitchen table, in the bathroom do not forget to clean the sink and bathtub. Make sure that your house or flat is well ventilated through this process. After every surface shines grab a bit of paper towel for the ledges. Do not forget the windows. Clean the windows in each room from the inside thoroughly.

Suggested: How to clean windows a few easy to follow and handy tips.
7. How to spring clean- get help.


While you are cleaning the bedroom ask your kids to collect the toys in their bedrooms, your husband to arrange all his tools. Put someone in charge of throwing the garbage away a different person can arrange items back on the shelves. Delegate, when each family member has a task they are responsible for you will clean your home faster.
If you do not have the time or energy to deep clean your home on your own you can also always reach out to a reliable professional cleaning company that will gladly help you with all your cleaning requirements.
8. How to spring clean - use time-saving cleaning tips and tricks.


For example, you can easily clean your microwave in minutes. Add a bowl with tepid water with a few fresh lemon slices. Turn the microwave on for 2-3 minutes and wait. After you wipe the inside of your microwave with a damp towel you will see dirt falling off and the microwave is left with a pleasant lemon aroma.

9. How to spring clean- make sure everything is put back in its place.
You have dusted the shelves, cupboards, wardrobes, and cleaned them from the inside and outside. Before moving onto more demanding tasks, such as window cleaning, make sure you have put everything you took out back in its place. You do not want to go from room to room trying to arrange.



10. How to spring clean- clean the floors last.
Now that you are nearly done and your home is almost shining there is one final task to cross off your spring cleaning checklist. Grab a mop and bucket turn your favourite playlist up and do the floors. After cleaning the floors its time to put your feet up and rest, literally put your feet up the floor still has to dry.